Sanctuary Synthetics are Irelands longest established and leading provider of artificial grass for homes, schools, creches, business and landscapers.
We want your garden to be your sanctuary, your creche to be a child's paradise, and your exhibition space or showroom to be a reflection of the professionalism of your business.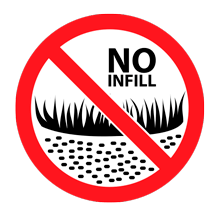 WE ONLY USE NON-INFILL ARTIFICIAL GRASS
Rest assured folks – our grasses do not contain any harmful rubber infill – in fact one of our main advantages in that we install NON-INFILL grasses which are specifically designed for the domestic and childcare market and DO NOT require harmful rubber infill.
Irish Gardens Transformed
Irish Schools Transformed
Now the dust has settled on another wonderful Bloom weekend, we look back on what was a fantastic 4 days. We were delighted to be awarded a Silver medal for this years installation. It keeps up our proud record of having received at least a silver for each of our 3...
read more
Did you know that it's totally safe to park on our artificial grass? In fact we do it ourselves every day at our office and at home. The fibres will just flatten ever so slightly where the wheels of the cars are parking but a couple of times a year just brush the...
read more
Why Choose Us?
There aren't many suppliers of artificial grass in Ireland, but there are a few, so why should you use Sanctuary Synthetics?
  1st in the market – still the best!
  We are fully insured
  Full Public Liability
  C2 Registered
  Employers Liability Insurance
  IOSH Health & Safety Cert
  Tax Clearance Cert
We would love to see you in Bloom over the weekend, especially with the sun shining for a change. We are in the outdoor retail area, opposite RTE, you can't miss us. Want a sneak peek of our garden? Have a look at the YouTube clip below...
read more
Does any of this look familiar?