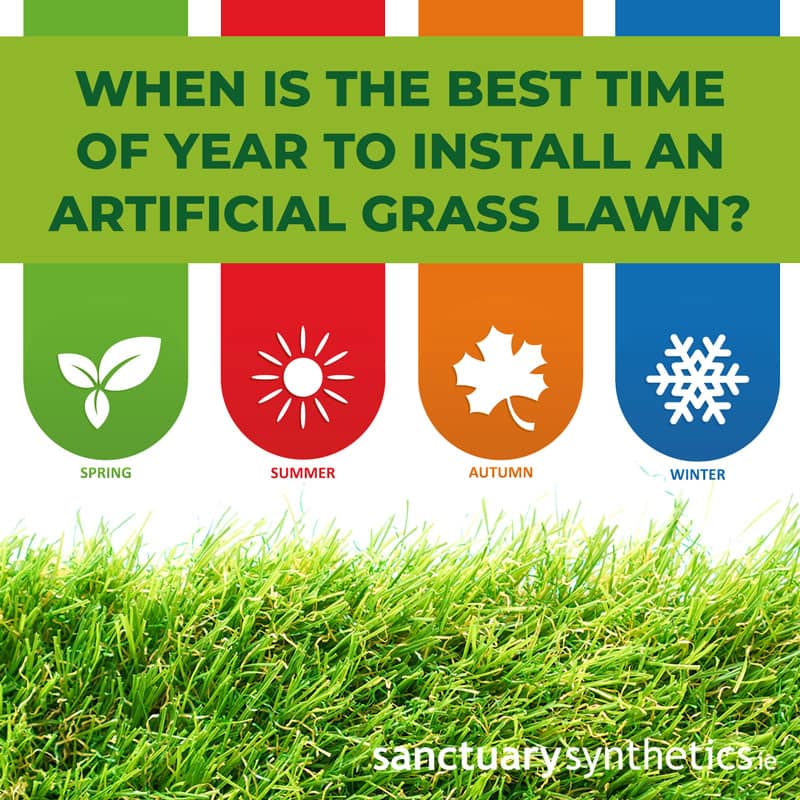 Introduction
In recent years, artificial grass has surged in popularity across Ireland. Its vibrant green hue, minimal upkeep, and year-round appeal make it a sought-after choice for many homeowners. However, a frequently posed question is: when is the optimal time of year for its installation? TLDR? Anytime of year!

Understanding the Irish Climate
The Emerald Isle, as Ireland is fondly known, boasts a temperate maritime climate. This means mild temperatures and consistent rainfall throughout the year. Such weather conditions play a pivotal role in outdoor installations, especially when it comes to ensuring the longevity and appearance of artificial grass.

The Optimal Time: Autumn Season (September to November)
Autumn in Ireland, which runs from September to November, is often touted as the prime time for laying down artificial grass. During these months, the cooler and occasionally damp conditions aid the grass in settling seamlessly, ensuring a robust grip and effective establishment. Choosing to install during this window can lead to a smoother process and a finish that closely mimics natural grass. Besides, far better to have it done and dusted, ready for (more frequent) Summer use.

Flexibility of Installation: Other Suitable Seasons
While autumn stands out as the preferred season, it's essential to note that artificial grass installation is versatile. Spring and early summer also present viable options. These periods come with their unique set of advantages, such as extended daylight hours, which can expedite the installation process. However, it's always wise to keep a close eye on weather forecasts, especially when anticipating rainfall, to guarantee best results. In the past, more than once, we have even cleared away snow before commencing an installation.

Personal Preference and Project Needs
The timing of installation isn't solely dictated by seasonal changes. Individual preferences and specific project requirements can also influence the decision. Whether you're gearing up for a grand garden party, a family gathering, or a simple backyard makeover, your unique needs and timelines should be at the forefront of your decision-making process.

Advantages of Artificial Grass
Sanctuary Synthetics, a trailblazer in the realm of artificial grass in Ireland, underscores the manifold benefits of this landscaping alternative. With a legacy spanning over two decades, they have metamorphosed countless gardens and educational institutions across the nation. Their offerings, manufactured in the EU, guarantee top-tier quality designed to endure for years. These grass variants are not only child and pet friendly but also environmentally conscious. Their resilience, fade-resistance, and minimal maintenance requirements make them a standout choice for modern households.

A Word From The Expert
Mark J O'Loughlin, colloquially known as 'The Fake Grass Man' and the visionary behind Sanctuary Synthetics, offers a reassuring message to prospective clients. He addresses prevalent concerns, from muddy footprints tarnishing home interiors to children lacking a clean play area and the challenges posed by pet waste on natural turf. With artificial grass, these issues become obsolete. Beyond mere aesthetics, these grasses offer unparalleled versatility, finding applications in diverse areas, from dog runs and patios to rooftops and even memorial sites.

Conclusion
In summation, while autumn emerges as the most recommended season for artificial grass installation in Ireland, the final choice remains in the hands of homeowners. Factors such as personal preferences, specific requirements, and even budget can influence this decision. With industry leaders like Sanctuary Synthetics at the helm, Irish residents can rest assured that they are investing in a product that not only enhances the beauty of their outdoor spaces but also stands the test of time.