NOT SO FAKE NEWS
Mark O'Loughlin, owner and operator of Sanctuary Synthetics, presents his perspective on why using synthetic grass may well be a sustainable option for the future in this months Horticulture Connected magazine (Sept 2018).
Get your hands on a copy to read the full article, including a counter-argument from Eugene Higgins, a garden writer and broadcaster.
"In my 17 years importing and installing synthetic grass, I've never tried to change anyone's mind. In our marketing, I bring its existence to people's attention, lay out the benefits and let people vote with their feet. Fear not, concerned readers, of the 270,000 households in our Republic, we've only converted about 5,000 which leaves plenty left to go.
I should mention, we've transformed the grass for another couple of thousand trade customers including hotels, pubs, balconies, graves, and a few hundred national schools and creches. Oh, and don't let me forget the 24m2 we donated to Mayo mountain rescue team, which is installed half way up Croagh Patrick. A popular picnic spot when not a first aid station, I'm told.
OK, so it's plastic versus grass. I get it. But as our tagline says, 'No more muck, no more mowing, no more maintenance.' Well, very little maintenance, comparatively speaking. Think about that for a minute. No more 40 hours needed per annum with a petrol mower, giving off higher CO2 emissions than cars. No more no catalytic converters needed.
No rotten smelly cuttings dumped behind the shrubs or stewing in the wheelie bin. No pesticides required. Glyphosate anyone? No fertilisers required. And no floor cleaners either. That's a significant reduction in chemical use and pollution over the lifespan of a lawn.
I can hear you shouting at the page, "Mark, c'mon, it's fake."
Indeed it is, but its appearance is continually improving. My Dutch suppliers – remember they will be first to be flooded when global warming kicks in, dikes notwithstanding – have an impressively lean and waste-free manufacturing process.
"Yeah, but Mark, it's fake, it's not a natural thing like grass."
Hmmm, a natural lawn? Now there's an oxymoron. The beloved natural lawn is not natural at all. It's a high maintenance, wasteful, energy and chemical hungry monoculture whose genesis lies in expressions of power and wealth over nature.
Something which filtered through the English Parks Movement and into the psyche of the European populous and beyond.
Lawns are the default garden element, an unnatural and labour intensive affliction. A natural lawn is a meadow.
I will make a concession; artificial grass is not biodegradable. No surprises there. But why single artificial grass out? Take a close look at modern gardens … the steel, the concrete, the reconstituted paving, the tarmac, the resin bound gravel, the pressure treated, chemical laden timbers.
Beyond the muck and the plants, very little is biodegradable, and unlike many modern artificial grasses, they're not even recyclable. As technology improves, all artificial grass will be recyclable. More on that later.
In an ideal world, we'd all be living some contemporary version of the Good Life, producing our own food and living harmoniously with our environment. We don't live in an ideal world. We live increasingly busy lives, are time poor and have ever smaller houses with shrinking gardens. Mow the lawn?
Ha, you'd be lucky to have space for one let alone the time to mow it. By the time the average homeowner flops onto their couch at the end of the week – before they are called to do kids' drop offs, organise parties, sports events, and countless other free time demands – they have no energy or inclination to mow the lawn. For most, it's easier to draw the curtains and turn their backs on the garden. From this perspective,
It could be argued that lawns discourage garden use, their endlessly demanding nature a cause of resentment. We take the demands away, allowing our customers to enjoy their gardens without the hassle. I'm always amazed how many of our customers really get into gardening once the onerous mowing tasks are removed. On that note, it has been interesting to see how Bloom designers are increasingly using artificial grass in combination with excellent planting.
Yes, its fake but it's encouraging a whole new generation of people to use their gardens.
Please be aware I'm not defending Astroturf. We specialise in next-generation multi-play surfaces and non-infill landscape grasses (the ones that don't use rubber granules). I've always had reservations about rubber granules but that's a debate for another day. We waste nothing. Offcuts become grave or balcony coverings. Smaller pieces become hairy green door or car mats, or samples.
The rest is donated to and snapped up by Recreate Ireland to be recycled by kids and artists for arts and crafts.
I'm sure Eugene has spotted that artificial grass is a single-use plastic. A by-product of the oil refining process, it is extruded onto spools of thread and woven into rolls of grass by the same machines that make carpets. Regrettably, it is currently difficult to recycle. However, our grasses last twice as long as a typical Astroturf pitch, on average 20-25 years.
After that, it's landfill. But several manufacturers have come up with grasses that are both recycled (minimum 90%) and recyclable. They are currently at a premium price. We've tried promoting this but so far with limited success. I think it needs government action to encourage uptake.
Meanwhile, I sleep quite soundly at night. Before sitting down to write this piece I leafed through our 'book of testimonials'. The gratitude and satisfaction of past customers and their happy children are affirmation and motivation enough for me. Why not come to Grassland, our Naas HQ, and see for yourself?"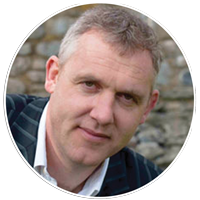 Mark O'Loughlin
Owner, Sanctuary Synthetics
Award Winning Artificial Lawn Specialists