Summer Sunshine for Sanctuary Synthetics
What a glorious Summer we have had, we haven't seen the likes of it in years. The plentiful sunshine meant one thing, people head outdoors more when the sun is shining therefore spending way more time in there back garden.
Even though the sunshine is great to have around, our poor Irish lawns really did suffer the consequences. With no rain for weeks on end and a hose pipe ban in place this meant that our lawns resembled what we can only describe as the surface of the moon!!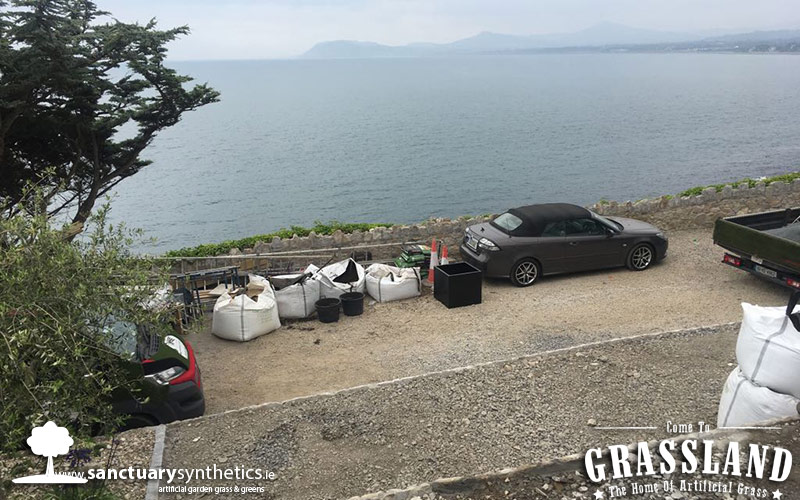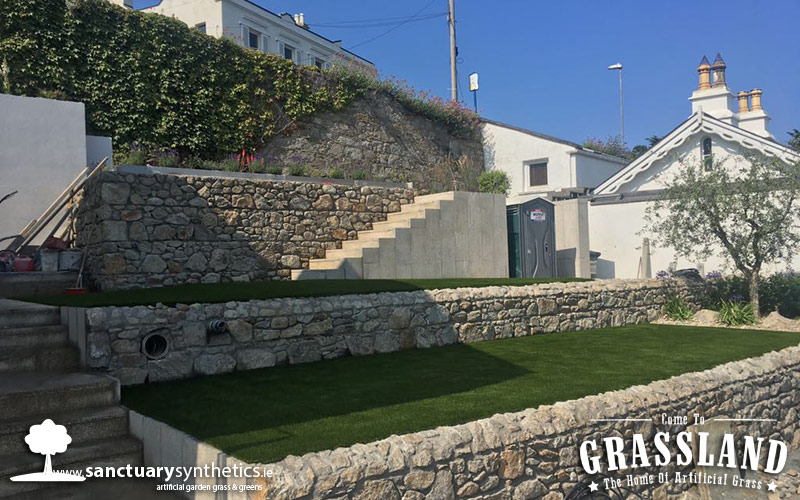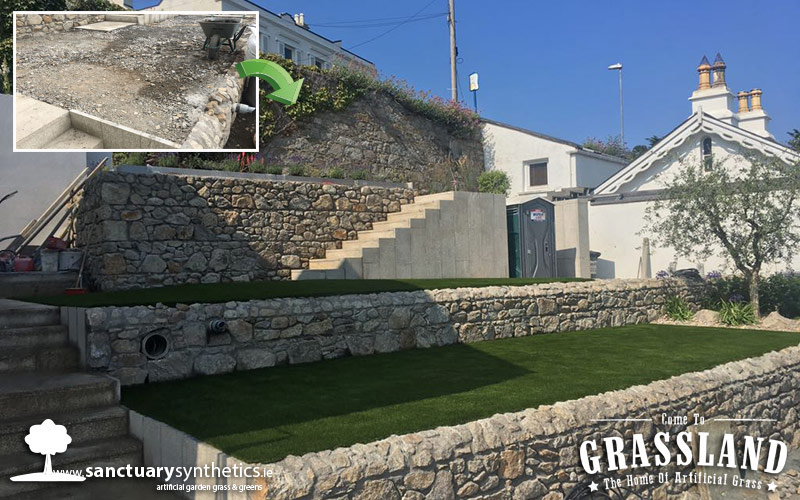 Our office phone has been hopping recently with every second call stating the same thing………………my lawn is burnt and dry and looks a mess. We ain't complaining!
This Summer we have transformed more lawns than ever before! The good weather has brought us in to our back gardens more than any Irish summer we have seen in recent years.
Now let's talk about this stunning artificial lawn in Dalkey Co Dublin. I mean imagine waking up to this view every morning!! This house and garden are seriously goals. The artificial grass transformation has official put the finishing touch on this stunning sea view home. The garden area is split level meaning you can see that glorious view from every angle of the garden.
The artificial grass chosen for this job was our ever so popular REAL artificial grass. It fits the landscape of this property perfectly, better yet it can and does pass for a "real Irish lawn". The customer wanted something that wasn't too harsh in appearance as they wanted the garden to be as natural looking as possible.
Artificial grass will keep this garden looking picture perfect all year round. The outside of this home really does leave an amazing lasting impression, one that will wow family and friends when they visit this costal property.
Our REAL artificial grass is 40mm in pile height and is by far our most popular artificial grass, it is the most realistic match to an Irish lawn in terms of colouring hence the name REAL. A medium to long length, 2 tone grass with Dark brown thatch and 2 colours of green fibres. It is a very hard wearing yet soft to touch grass. Making it the perfect choice for this lawn transformation.
Our synthetic grass will add value to your home and provides quick drainage. It looks like grass, but it's not mucky, doesn't need to be mowed, doesn't get ruined by pets, doesn't turn into a carpet of moss and doesn't get scorched in the sun.
We are proud to say we are Ireland's longest established and pioneering specialists in artificial garden grass. We offer a full installation service. Our grass is 100% pet friendly – it is immune to claws. Even the unruliest of dogs cannot break through it.
Our premium grade grasses are ideal for realistic domestic lawns, and can be laid over any surface – concrete, tarmac, existing grass lawns, etc
Get the lush, green look of grass … without the mess or the work!
Imagine beautiful lawns all year round
No maintenance, highly durable and weather proof [even Irish weather!].
We are confident we have the right grass and solution for you.