Firstly, we would like to start of by saying a very happy new year to all our past, present and future Sanctuary Synthetics customers. We are fully back in the swing of things around here and we are starting the year on a very busy note. Many things change in the new...
read more
Graham from our team at Sanctuary, who is a massive Dublin fan, meets Jonny Cooper, winner of 5 All Ireland
read more
I can only imagine the number of gardens in Ireland that get little to no
read more
Treacherous Deck It's that time of year again, the evenings are becoming shorter and the temperatures are
read more
Well hasn't our glorious weather taken a serious nose dive, it feels like Winter and we are convinced it happened over
read more
Throwing it back to a garden makeover we did back in March 2018. We have been getting an increasing amount of phone calls to transform newly built homes gardens. The majority of these gardens are just left in seed or the grass is only beginning to grow. These buyers...
read more
What a glorious Summer we have had, we haven't seen the likes of it in years. The plentiful sunshine meant one thing, people head outdoors more when the sun is shining therefore spending way more time in there back garden. Even though the sunshine is great to have...
read more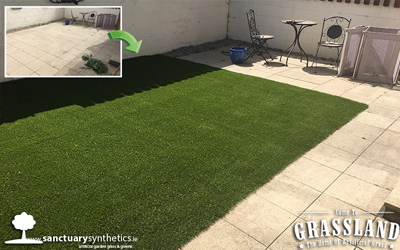 Its looking like this great weather will be sticking around and we are not complaining one bit. Our installation crews are working on there farmers tans as we speak. This customer rang our office and wanted to totally transform their back garden. The area was paved...
read more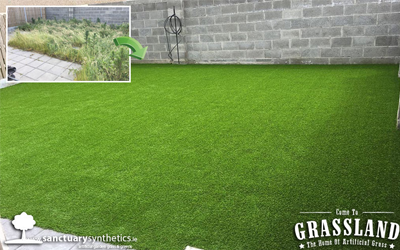 We only come to appreciate our gardens when the sun is shining. We spend the whole Winter neglecting it and the second the weather turns slightly warmer we remember that we even have a garden. Am I right? Imagine being able to use your garden all year round with the...
read more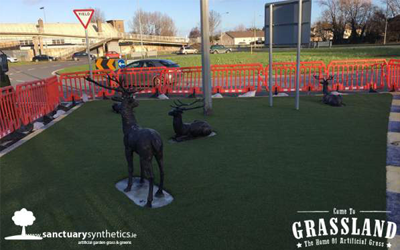 We have been in the artificial grass game for a very long time and over the years we have seen some very strange and interesting uses for our artificial grass. Our customers often send us pictures of the weird and wonderful ways they…
read more
Summer is fast approaching, and this means (fingers crossed) that we will get to spend a whole lot more time in our gardens. It is now the time to think about your poor garden and give it that much needed future proofing makeover!
read more
Are you sick of your dreary sad looking lawn?? Do you distasted lawn mowing season? Is your r garden a mud pit due to our terrible Irish weather?? Well look no further….. Sanctuary Synthetics are here to
read more
In early 2017, we spoke with a School in Cork about getting their incredible School a much-needed yard makeover. The first step of protocol was visiting the School in Cork and measuring the area and discussing the
read more
I know it does not seem or feel like it, but Spring has finally sprung. The evenings are brighter, but unfortunately, we can't say that about our weather. We at Sanctuary say it feels like an eternal winter it seems like its been one snow storm after another!
read more
Wow what a snow storm, it really hit us hard and has also hit our poor gardens even harder. Due to the heavy snowfall and the big thaw our gardens are now more then ever calling out for help. Grass has become water logged and decks have become treacherous.
read more
Every garden is a different shape, comes with different problems. Then along comes customers who want different designs, different grades of grass and they have their own issues with how their lawn looks. Each customer has their own wants and needs for their garden...
read more
Do you know we offer a nationwide service? If in any case that we cannot get to your garden, we have a lengthy list of trusted landscapers all over the country we can recommend for you. As you can see from the before image of this garden
read more
Face it every one of us knows someone who is golf mad for whatever reason. Did you know that you can now bring the putting green right to your back door or front back door quite literally? We here at Sanctuary Synthetics love a bit of golf ourselves, we even have a putting green here
read more
Yeah yeah we hear you!! This time of year is testing enough, everybody is coming down off their Christmas high, the January slump is definitely in full swing or maybe that's just us! With the awful wind, rain and even snow this blustery January is bringing, now more then ever is time to start thinking about…
read more
Residents and staff of McCauley Place, the innovative Naas independent living centre, were delighted to
accept an offer by Sanctuarysynthetics.ie to transform part of their dull grey courtyard area beside the…
read more
Sick of mowing your lawn or just simply put off by its appearance. Have no fear Sanctuary Synthetics are here. This charming Dublin garden although in good condition the customers wanted to put an end to having…
read more
As the winter months are fast approaching, now more than ever it is time to transform your garden with our artificial grass. Decks will become treacherous in these frosty winter months, decking becomes too…
read more
Look what we have hear another serious case of garden blues. This garden literally screams help!! Its dreary and dull and needs a little TLC. The home owners called our friendly staff in our office and they organised a site…
read more
A local landscaper prepped the ground works for this particular job, our Sanctuary Synthetics team came and installed the artificial grass. The grass chosen by the…
read more
This wonderful front garden in Dublin got a makeover with our SUPER artificial grass. A lot of the domestic gardens we do here in Sanctuary Synthetics are back gardens but it is getting increasingly popular to get your front garden done in artificial grass.
read more
"With the Summer we have had, it has been fantastic to be able to take advantage of the few hours of dryness we have had in between the rain and we can do that now because the lawn is dry and ready for the children to play on once the rain stops. They love it, all the neighbours children love it, we love it!"
Maria – Castlebar
"Can't stop looking out the window! The three guys you had working at my home were excellent, very hard working and very professional! I would definitely recommend Sanctuary Synthetics to family and friends!"
Dolores
"Thanks Mark, looks gorgeous. Your guys were really great. The children are beside themselves to get out. They will be your greatest champions. Special praise and thanks to your team of fitters. Professionals all!"
Precious Minds, Lucan