We've transformed hundreds of drab yards and mucky playground surfaces into sanctuaries for the little people who use them (and, don't forget, we were young once – click
here
for the evidence).
You should see the collection we have in the office of thank you cards from delighted children.
[slider id='4990′ name='creche play surfaces']
Sanctuary Synthetics has pioneered the use of coloured play grass cut into fun shapes which give endless stimulation to the imaginations of the kids. More importantly, our play surfaces conform to European Safety Standard EN1177 and meets HSE requirements so they are completely safe, as well as being maintenance free; wind and rain keep the grass clean.
"Our present surface is not suitable for the children to play on"
Rosaleen, Creche owner, referring to Health Board regulations
"Great team on the day – they came and they conquered!"
Suzanne, Early Scholars Creche, Athgarvan
Say HELLO to …
a natural looking surface
shock-absorbing
non-slip safety surface
maintenance-free
quick-drying
guaranteed
lasts 15-20 years
Say GOODBYE to …
wellies
dry cleaning bills
disgruntled parents or kids
cabin fever
cut knees
fading or staining
nasty rubber or sand infill
Here is a small selection of some Dublin based Creches we've worked with :
Bright Sparks, Kinsealy Lane, Malahide
Private Childminder in Lambay View, Rush
Cowboys and Angels, Swords
Private Childminder in Littlepace, Clonee
Private Childminder in Highfield Drive, Marley Grange, Rathfarnham
Precious Minds, Griffeen Glen, Lucan
SAOL Womens Refuge Centre, Blanchardstown
Knocklyon Lodge Creche, Knocklyon
Adorables Creche, Greenhills, Walkinstown
Cloud 9, Stanaway Drive, Crumlin
Private Childminder, Clonrosse Court, Malahide Road
Angels Care, Beaumount Ave, Churchtown
Kidz Biz Day Nursery, Sandyford Hall Centre
Delaford Montessori, Ballycullen
St Kevins Childcare, Kilnamanagh, Tallaght
Island Key Childcare, East Wall Road
Private Childminder, Sandycove
Glenone Childcare, Terenure Road East, Rathgar
Private Childminder, York Road, Rathgar
Private Childminder, Terenure
Poppins Montessori, Highfield Drive, Rathfarnham
St Peters Montessori, Phibsborough
Cuddles N Care, Drumcondra
Abbey Tots Creche, Cabra
Little Dale Academy, Kilmacud, Co. Dublin
Brookview Childcare Service,Tallaght, Dublin
Charlesland Grove Crèche, Charlesland, Dublin
Little Learners, Mulhuddart, Dublin
Little Rascals, Whitehall, Dublin 9
 Little Rugrats, Skerries
As a school we had a garden but no actual play space for the students. Sanctuary's professionalism shone through. Excellent job and company.
The Principal, Henrietta Street School, Dublin
Thanks Mark, looks gorgeous. Ur guys were really great. The children are beside themselves to get out. They will be your greatest champions. Special praise and thanks to your team of fitters. Professionals all !
The Owner, Precious Minds, Lucan
We are a one stop shop – we not only supply and install the grass for you along with conducting all the necessary groundworks, our highly skilled landscaping/design team can also create customised extra's for you such as raised planter beds for children to plant bulbs and veg, covered sand pit boxes, wall mounted grass goal posts, picket fencing, gates etc.
Testimonials:
Already installed in over 200 crèches nationwide who's testimonials speak for themselves.
Manufactured in The Netherlands to the highest quality and environmental standards and can be 100% recycled.
Additional airlastic foam underlay is available to 1 or 1.5m critical fall heights.
Click on any of the links below to go to our Creche / Montessori / Schools Galleries. All of these images are of our own work, which we carried out in Creches / Monterssori's / Schools all over Ireland.
To view more testimonials from our Creche / Montessori / School projects, please click here
Thinking of getting artificial playgrass but not quite sure…..
We have a long list of satisfied creche owners. To view a county by county snap shot of just some of the many creches which have our grass installed
please click here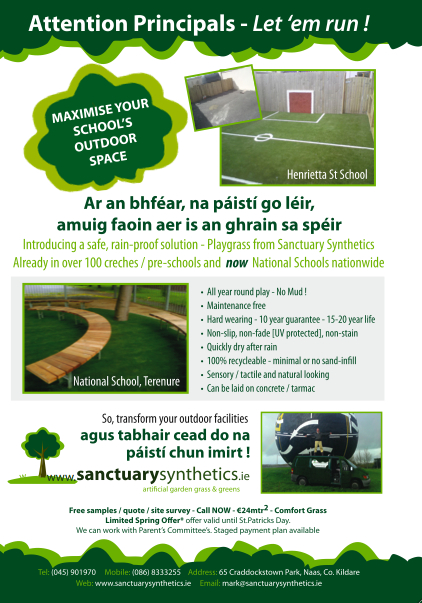 Click on image to see our recent Schools/Creche Flyer