How much should I expect to invest in Sanctuary's artificial grass for my garden, creche, montessori, school, or exhibition space ?
Our grass prices start from as little as €13.95 per square metre. NB – Prices are inclusive of VAT, and are priced in the calculator as supply only, and/or supply plus 'the-full-monty' installation (which entails replacing existing lawn).
How to calculate the area
First, you will need to identify the (square) area you are looking to get installed, by measuring the width and length of that area.
For shaped area's simply draw the shape on a piece of paper and insert into a box/rectangle to gauge the width/length.
Please allow an additional 5 – 10% for cutting and shaping. If you need to convert feet sq. to meter sq., use the converter on this page.
Example:
If your garden is 10 metres wide and 5 metres long, then the area in question is 50 metres squared.
Obviously, not all outdoor spaces are square or rectangle, so break down odd shapes into smaller squares/rectangles, and add up the individual square area amounts to get your overall calculation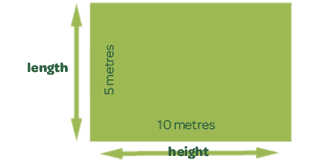 Feet (sq.) to metre (sq.) converter
Our prices are per metre sq., but we have a handy feet to metre converter here, as it may be easier for you to measure in feet.
Just put your area in feet (sq.) into the first box and the equivalent are will show in metres (sq.) in the second box. You will need this second number for the Instant Quote Generator below.
Converter courtesy of UnitConversion.org.


Instant Quote Generator
Get an idea of cost in four quick steps ...